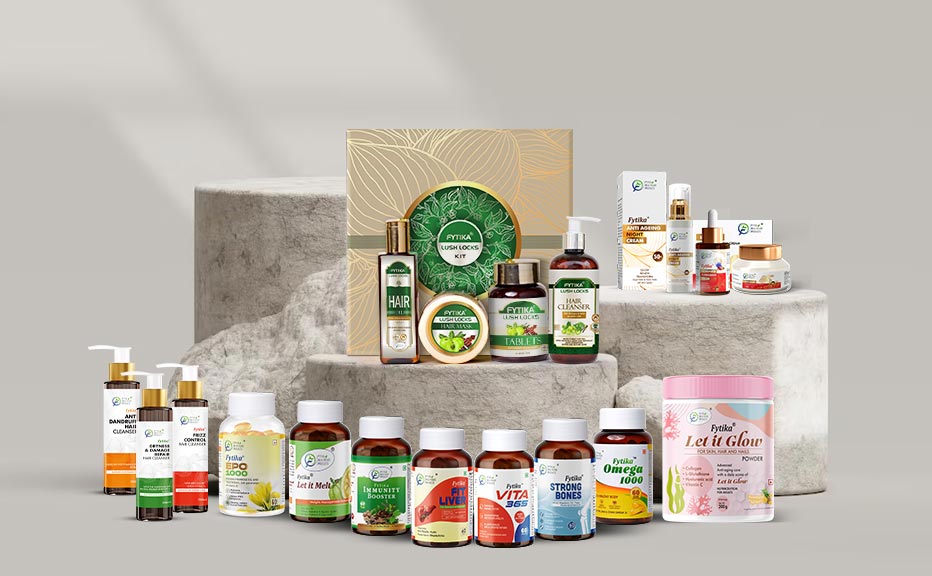 In a world filled with challenges and demands, the pursuit of well-being has become more crucial than ever before. Step into the realm of Fytika Healthcare, where the spotlight shines on your well-being, and the path to comprehensive health unfolds. Our world hurtles forward at an unrelenting pace, accompanied by demands and stresses that underscore the need to prioritise our physical, mental, and emotional wellness. It is in this context that Fytika Healthcare emerges as a guiding force, presenting a collection of premium, entirely natural, and herbal products. These offerings empower you to harness your innate potential, setting you on a remarkable voyage towards embracing authenticity and invigorating vitality.
Who We Are
At Fytika Healthcare, we aren't confined to just being a company – we are a living philosophy. Our approach intertwines the harmony of nature and science to enrich your well-being. We know that wellness isn't about standing still; it's an exciting journey guided by the choices we make each day. Our foundation rests on promoting well-being, and Fytika transcends being solely a provider of wellness and nutrition products. We're your companions, passionately invested in your pursuit of optimal health. Step into a journey where nature and science unite to uplift you – Fytika Healthcare, where wellness is a way of life.
Why We Exist
Fytika exists as your partner in well-being. We understand the impact of modern lifestyles and stress on overall health. Our mission is clear: to provide you with the tools for a fulfilling life. Our range of natural and herbal products is a testament to our commitment. Crafted through meticulous research and featuring quality ingredients, each product is backed by science. Recognising that every journey is unique, our products cater to various aspects of health - from physical vitality to mental well-being. We're here as Fytika Healthcare to simplify your path to holistic wellness.
Introducing Our Premium Products
Fytika Let It Melt: The natural and healthy way to achieve your weight loss goals! Our revolutionary formula is designed to promote gradual weight loss while ensuring your overall well-being remains intact. Infused with a potent blend of herbs including garcinia cambogia extract, green coffee extract, Triphala extract, kali jeera, and piperine, our tablets work in harmony to help you achieve and maintain a healthy weight while providing numerous health benefits
Fytika Vita 365: Fytika Vita 365 - your one-stop solution to meet your daily health needs. It supports everyday wellness, including immunity, heart health, stamina, stress relief, and muscle health.  It increases energy levels, promotes body detoxification, and supports a healthy digestive system. The product is carefully curated with essential vitamins & minerals, ginseng, Ashwagandha, and probiotics. These micronutrients energise every cell in your body.
Fytika Omega 1000: Fytika Omega 1000 is a premium quality dietary supplement that provides the benefits of EPA and DHA, essential omega-3 fatty acids for maintaining overall health and well-being. With 1000mg of pure Omega-3 per serving, this supplement is a great way to support heart health, brain function, joint health and healthy skin .
Fytika Strong Bones: Fytika Strong Bones tablets help to maintain bone strength and reduce the risk of developing osteoporosis. It contains Calcium  1000 mg and Vitamin D3 400 IU along with Magnesium & Zinc. It helps to increase bone density, promote stronger bones, and reduce the risk of diseases caused by a deficiency of Vitamin D3 and Calcium.
Fytika Flexi Move: Fytika Flexi Move, is a revolutionary formula designed to support joint flexibility and promote overall joint health. This advanced blend effectively nourishes and rejuvenates cartilage and joints, replenishing essential nutrients and restoring optimal hydration for enhanced mobility and vitality.
Fytika Immunity Booster: Fytika Immunity Booster Tablet is a dietary supplement formulated with a blend of natural ingredients known for their immune-boosting properties. It is designed to support and strengthen the body's immune system, helping to defend against infections, improve overall health, and promote a stronger immune response.
Fytika Fit Liver: Fytika Fit Liver tablets contain powerful ingredients like milk thistle, dandelion, kutki, punarnva, bhumi amla, and probiotics that aid in the natural detoxification of the liver, eliminating toxins and promoting liver health.
Fytika Let It Glow: Fytika Let It Glow, is the ultimate solution for achieving healthy, radiant skin, luscious hair, and strong nails. This powerful formula harnesses the benefits of collagen to enhance skin elasticity, moisture, and regeneration.
Fytika EPO 1000: Fytika EPO 1000: Your Comprehensive Hormone Balancing and Skin Rejuvenating Solution. The Power of Evening Primrose Oil and tocotrienol to promote a balanced immune system, relieve PMS symptoms, reduce inflammation, and support healthy skin and hair.
Fytika Saundarya Kumkumadi Tailam: This luxurious face oil, enriched with a blend of secret herbs, beautifully revitalises your complexion. Witness the magic as it fades pigmentation, dark spots, and aging signs, unveiling rejuvenated skin.
Fytika Nourishing Day Cream: Fytika Nourishing Day Cream, is your ultimate solution for radiant and even-toned skin. This powerful day cream effectively targets dark spots, sun tan, burns, and pigmentation marks, leaving your skin flawlessly rejuvenated. It imparts a natural glow while offering SPF 30 protection against harmful UV rays.
Fytika Anti-Aging Cream: Fytika Anti-Aging Cream as it works tirelessly throughout the night, reversing signs of damage and unveiling a refreshed complexion. Infused with potent organic ingredients, this rejuvenating elixir hydrates your skin and combats fine lines and wrinkles, restoring youthful radiance.
Fytika Dryness & Damage Repair Hair Cleanser: Fytika Dryness & Damage Repair Hair Cleanser, is a powerful elixir crafted to restore the health and shine of your hair. Enriched with a blend of Reetha, Brahmi, Shikakai, Amla, Almond Oil, and Rosemary extracts, this hair cleanser works wonders in treating dry and damaged hair, leaving it revitalised and full of life.
Fytika Frizz Control Hair Cleanser: Fytika Frizz Control Hair Cleanser, enriched with potent Onion Extract, Hibiscus, Shikakai, and Reetha. Transform your hair into a realm of vibrancy and rejuvenation, as this unique formula combats frizz, nourishes deeply, and restores your locks to their shine best.
Fytika Anti-Dandruff Hair Cleanser: Fytika Anti-Dandruff Hair Cleanser is a specially crafted formula designed to combat dandruff and promote a clean, healthy scalp. This powerful cleanser effectively removes dirt and impurities, eliminating dandruff and restoring the health of your hair.
Fytika Lush Locks Hair Cleanser: Embrace opulent locks with Lush Locks Hair Cleanser. Enriched with botanical treasures, it nourishes your hair, bestowing you with strands that are nothing short of luxurious.
Fytika Lush Locks Hair Oil: Embark on a journey of hair rejuvenation with Lush Locks Hair Oil. A symphony of natural oils, it reinvigorates your tresses, inviting you to bask in their lush splendour. It deeply nourishes the roots with revitalising nutrients, reducing hair loss and split ends. 
Fytika Curcumin Anti-Acne Foaming Face Wash: Fytika Curcumin Anti-Acne Foaming Face Wash is designed to combat acne by targeting the microbes that cause it, while also providing multiple benefits for clearer and smoother skin. This specially formulated face wash helps to reduce the frequency of breakouts, unclog pores, fade blemishes and scars, and soothe redness, providing a comprehensive solution to acne-prone skin.
Fytika Anti-Aging Foaming Face Wash: Fytika Anti-Aging Foaming Face Wash is enriched with a blend of natural botanical ingredients including white lily, lotus, honey, Indian gooseberry, and mulberry, this face wash is designed to keep your skin supple, firm, and youthful. The synergistic action of these ingredients helps combat signs of aging, leaving your skin looking rejuvenated and radiant.
Fytika Brightening Foaming Face Wash: Fytika Brightening Foaming face wash exfoliates, battles blackheads, and clears pores, unveiling a truly radiant complexion. Enriched with Orange Peel, Tulsi, Neem, and Indian Gooseberry Extracts, it promotes youthful, radiant cells and brightens the skin's complexion.
As you explore Fytika's amazing products, each one carefully created to boost your well-being, remember that our dedication to natural ingredients, scientific progress, and your overall health is steadfast. Reconnect with your true self, unleash your possibilities, and set forth on a wellness journey that embraces every facet of well-being with Fytika Healthcare. Step into the realm of holistic health, where the synergy of nature and science lights your way to a balanced life.
Conclusion
In a world where well-being is paramount but often elusive, Fytika Healthcare emerges as a guiding light, illuminating the path to comprehensive health. With an array of premium, natural, and herbal products, Fytika invites you to embark on a transformative journey towards authentic well-being. From weight management to skincare, joint support to immunity enhancement, Fytika's product range mirrors their commitment to your holistic health.
So, step into the world of Fytika Healthcare and unlock the boundless potential that resides within you. Your journey to holistic health begins here, as nature and science converge to redefine your well-being narrative. Embrace this transformative path, and elevate your well-being to new heights with Fytika Healthcare.